Smartphone manufacturers bring about a lot of innovation. But they don't like sharing it, which leads to fragmentation and disaccord. Development in parallel of similar but mutually incompatible technologies makes it more difficult to work together and therefore disrupts the ecosystem. So where is this happening in the Android world?
Fast charging
A standard charger to work on any smartphone from any manufacturer at the same speed – that would be ideal, wouldn't it? The new USB standard type C fulfills this very function, with its Power Delivery. But then Qualcomm's expensive Quick Charge or proprietary solutions like Samsung's adaptive Fast Charger or Huawei's SuperCharge or OnePlus' Dash Charge shouldn't gain so much traction, right?
Have you ever tried to charge a Huawei smartphone with a Samsung charger? Or an LG with a Honor charger? Sometimes the devices get very hot during charging and often, the whole charging process can take several hours. The USB Implementers Forum (IF) pushes for improvement in this field and with its Power Delivery system, it offers a license-free standard unit for fast charging under strict regulations. Even Apple wants to ship the next iPhone with a Power Delivery-compatible Lightning port, according to analysts. With 34 seats in the USB IF, we know that Apple has significant stakes with the standard.
For Android, it's simply a matter of time before Google pulls the plug. Currently, the Compatibility Definition for Android 7.1 states that Power Delivery is STRONGLY RECOMMENDED . The next step might see that recommendation turn into a REQUIREMENT. The same applies to the use of certain proprietary charging standards.
What will Google do about this? Proprietary charging standards will most likely reach their sell-by date. This is particularly good in terms of environmental protection, as hopefully this move would eradicate low-end environmentally-unfriendly chargers.
Dual cameras
The basis is simple enough: large cameras capture more light than small ones. Obviously, there simply isn't enough space for a large camera in a smartphone. instead, manufacturers have circumvented this issue by taking two small cameras and collating the data together into a single picture. How do they do this? That's a trade secret! Huawei and Qualcomm are big adversaries when it comes to developing and licensing the underlying process.
Google would have to step in to eliminate the problem. Each of the sensors in a dual camera needs to be identifiable by its hardware ID. Third-party apps could then be developed to control each sensor individually. But apparently this is not the case, at least according to a discussion in Open Camera and a section in the compatibility criteria catalog.
Interestingly, we noticed that this function already exists on the iPhone 7 Plus. The third-party camera app SILKYPIX Shot has a button where you can switch from one camera to the other. For the sake of fairness, it should be noted that Apple produces both iOS and 100 percent of iOS devices itself and thus, unsurprisingly, the dual camera too. But since since the HTC One M8 also has Android dual camera setups, it's a mystery why Google has not yet entered this arena in the same way it has with fast charging technologies.
Will Google fix this? That depends on many factors. The number of dual camera smartphones is growing, but each manufacturer implements a new setup differently. For third-party apps, it would only be relevant if the user could use each of the two main cameras as a full-fledged camera. This is the case, for example, with the OnePlus 5, which offers a standard camera and a telephoto camera. On the Huawei Mate 9, on the other hand, one of the sensors only supplies black-and-white images, which needs to be merged with data from the color sensor. And this is again only possible with proprietary camera software, be it Huawei or in other cases Qualcomm. And this would be unaffected by any adjustment in the compatibility guidelines.
Perfect backups
Huawei has a perfect backup and relocation solution with the Phone Clone app. If you exchange a P9 with a P10, a wizard guides you step-by-step through a process in which your text messages, pictures, contacts, apps and app settings as well as the log-in details for encrypted and password-protected accounts on a MicroSD card get transferred. Of course, the whole process can also be done through cable or Wi-Fi. The wizard restores exactly this data on the new Huawei smartphone and can even rearrange your home screen icons to look like your old device. So you can reuse your new device with old habits.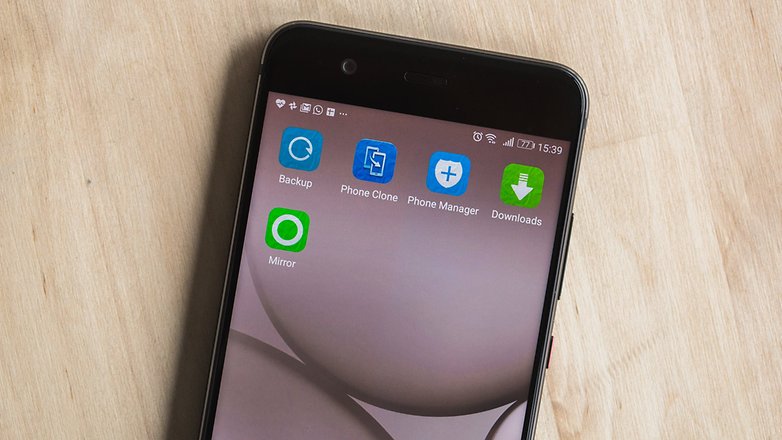 Many manufacturers offer similar processes, but only Huawei gets anywhere near as close as Apple's iCloud, which is a perfect clone of the setup you had on your old phone. This is particularly the case with app data, many manufacturers have issues working around authorizations, but Huawei seems to have found a way.
But manufacturers don't want to share their knowledge around and even Google doesn't offer much in the way of alternative solutions, or at least nothing that is available in AOSP for all. Instead, Google itself relies on a proprietary, drive-based solution (and which is not available in Huawei's country of China.)
Will Google do anything about this? It seems unlikely. Google can offer its platform up for necessary backups. The switch from HTC to Samsung is so easy. The change Samsung to iPhone, however, isn't Google's problem. So… why would it try to solve that?